Red Herring Magazine announced that the leading China biometrics company Miaxis Biometrics Co., Ltd has been officially selected as a winner of the prestigious Red Herring 100 Asia 2007 awards. Winners were selected from a pool of more than 500 applicants based in 16 countries/regions including China, India, Japan, Singapore, Korea, Australia and Vietnam.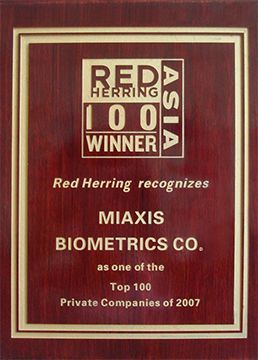 The Red Herring editorial team carefully selected the winning companies based on both quantitative and qualitative criteria such as financial performance, technology innovation, quality of management, execution of strategy, and integration into their ecosystem.

Red Herring 100 Asia is an exclusive event honoring 100 cutting-edge private technology companies from across the Asia-Pacific region. The event brings together an elite roster of entrepreneurial and global venture investment firms to showcase excellence in innovation.