NIST Minutiae Interoperability Exchange (MINEX) III is regarded as one of the most important tests in the biometric industry. MIAXIS Justouch® fingerprint algorithm has proven itself once again in the MINEX III matching test on 23rd March 2022, which takes the top 1 ranking in China and the top 5 ranking in the world.
In addition, there is no Chinese biometric technology company has made it to the top 5 before, and MIAXIS became the first biometric technology company in China to successfully pass the NIST MINEX III continuing test.
What has MIAXIS achieved?
As published by NIST, MIAXIS is the first Chinese biometric technology company to show up in the top 5 ranking in matching tests while also ranking well in most of the main accuracy and interoperability criteria.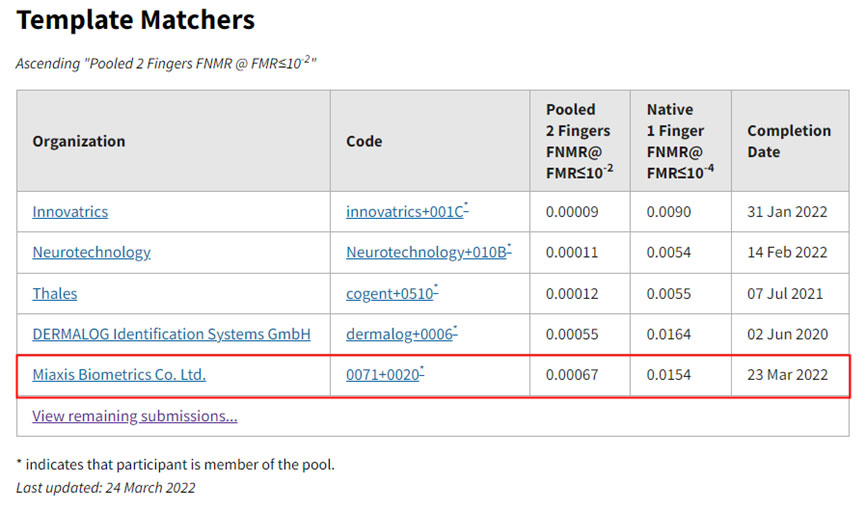 What is NIST MINEX III?
The National Institute of Standards and Technology (NIST) is an internationally recognised institution and it helps define the requirements for biometric technology projects, organisations and private companies. Nevertheless, as a part of the NIST evaluation test for the biometric industry, MINEX III is a continuing test of INCITS 378 fingerprint templates, as established in Annex A of NIST SP 800-76-2. The test is used to establish compliance of template generators and template matchers for the U.S. Government's Personal Identity Verification (PIV) program.
Future Expectations?
MIAXIS has focused on the biometrics and identity authentication field for more than two-decade and it has its own proprietary biometric recognition algorithms - Justouch®. In the future, MIAXIS will continue challenging itself in the biometric and identity authentication field to become a better and more reliable partner to all organisations